Introduction of Virgo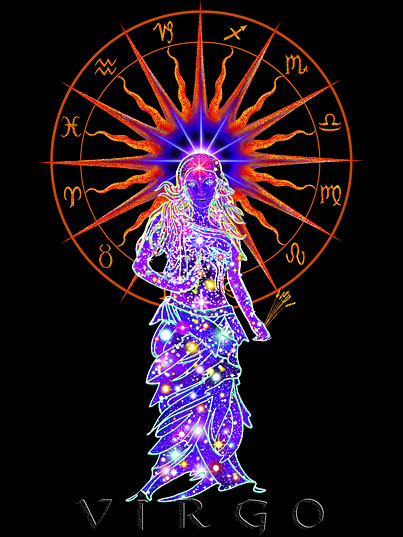 &nbsp &nbsp &nbsp THE Zodiacal Sign of Virgo commences on August 21st, but for seven days it does not come into its full power until on or about August 29th. From this date onwards it is in full strength until September 20th, and is then for seven days gradually losing its strength on account of becoming overlapped by the "cusp" of the incoming sign - Libra.
&nbsp &nbsp &nbsp The emblem of Virgo, a virgin holding sheaves of wheat in her hands symbolizes wisdom, garnered in the fields of experience. Like the true virgin, most Virgos are shy and, like a virgin tend to wait to give herself to the perfect lover, Virgo is also idealistic.
&nbsp &nbsp &nbsp With a Mercury as the ruling planet, people born under this sign are quick thinking and observant. They define pure modesty; they can't bear to be taken care of, they prefer to take care of others.
&nbsp &nbsp &nbsp People who were born in this period are as a rule generally successful in life. They have keen, good intellects, are very discriminating about those with whom they associate, and in all business matters they have good judgment, and are not easily imposed upon or deceived.
&nbsp &nbsp &nbsp They are usually materialistic in their views of life, and analyze and reason everything from their own way of thinking outwards. These people are and attracted to only that knowledge that can be applied usefully. They will happily share this information with anyone, if it confirms their own usefulness in the world, and brings them eagerly out of there shells.
&nbsp &nbsp &nbsp These people can become good literary critics, being quick to see the weak points. They are extremely fond of harmony in their surroundings, have excellent taste about their house and dress, and always want things in good taste, and elegant.
&nbsp &nbsp &nbsp Virgos are usually fastidious about their personal appearance, have a great respect for rank and position, and are great supporters of the law and the law's decisions. They usually develop this skill to improve themselves and their surroundings as they place great pride in tangible achievements. These people may spend part of their lives heading off on detours and then suddenly emerge as someone with a remarkable sense of direction. They can adjust easily to change once they find a way of fitting the new situation into their routine.
&nbsp &nbsp &nbsp They are inclined to become wrapped up in themselves and their own ideas, and often become selfish in the close pursuit of their aims. These people are more capable of going to extremes in good and evil than any other type. If they develop a love for money they will stick at nothing to acquire it, and this type is often considered cunning and crafty at the expense of others.
&nbsp &nbsp &nbsp In love they are the most difficult to understand, the very best and the very worst of men and women being born in this part of the year. To people born under this sign love is not dramatic, emotional, or sentimental. Love for them is devotion and will include love of family, friends, and those less fortunate than he or she. There is no pretense involved in how they act or what they say. Marriage is a major commitment; they value their union as both a love relationship and a working partnership. A warm relationship brings out the best in anyone born under this sign because basically they are kind, devoted and very loyal.
&nbsp &nbsp &nbsp Disappointment, however, can harden them into a cynic and a skeptic. Virgos consequently become quite critical with themselves as well as with circumstances, due to the effect of such disappointments on a sensitive and discriminating nature.